HOLONI enables municipalities, local sustainable brands and energy retailers to assess the true potential of city solar, exchange local green energy and, at the same time, reinvent their community and commercial relationships to prosumers towards collective sustainable impact. HOLONI leverages Artificial Intelligence (AI) to predict and analyze solar surplus potential across the city and Distributed Ledger Technologies (DLT) to automate result-based reward and incentive schemes for urban solar prosumers. HOLONI also integrates ORIGIN, a prototype solution developed by Energinet to verify the origins of electricity by the hour.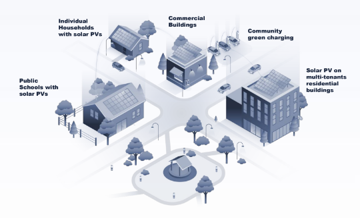 In the course of the AI4Cities program, HOLONI will run its AI solar surplus prediction solution in the Copenhagen municipality and explore a proof of concept of a DLT based reward scheme providing solar prosumers better value for their verified contribution to local green energy supply. With inputs from local prosumers and enterprises in Copenhagen, the HOLONI solution will act as a catalytic tool towards positive energy districts, renewable energy communities and, in the future, local energy markets. Based on this first AI4Cities experience, HOLONI aims at growing a wider portfolio of digital solutions to empower prosumers, democratize asset ownership and financing, and accelerate the deployment and efficient use of shared Distributed Energy Resources (DER).
Holoni & AI4CIties
Joining AI4Cities allowed the HOLONI partnership to innovate with a strong climate impact purpose and iterate its solution design and business model to ensure shorter-term adoption. Emerging technologies such as AI and DLT/Blockchain have a large theoretical potential but, in practice, it is often difficult to overcome technical, legal, economic and or business model challenges towards scalable short-term impact. Experimenting fast based on real world data and leveraging the Copenhagen city as a trustworthy channel for local engagement open doors and attract both partners and prospective customers. Thanks to AI4Cities, HOLONI is now in a good position to test its AI components in Copenhagen and continues to drive proof of concepts to unleash the digital trust benefits of DLT/Blockchain.
Consortium
HOLONI is a European digital cleantech startup being shaped through the AI4Cities program. It builds AI, Blockchain and IoT solutions at the crossroads of clean energy, fintech and smart cities. The team is currently developing a first suite of products to massively scale solar rooftops in cities. Through AI4Cities, Alpha Venturi, an independent Norwegian venture studio, is incubating HOLONI as a new venture and develops its solution with the support of Energinet, the Danish Transmission System Operator. Through iterative design, development and testing, the partners explore an innovative digital solution framework which will help cities reduce their CO2 emissions. In cooperation with the University in Oslo and its Blockchain research lab, HOLONI explores the security and privacy challenges associated with the use of DLT and shapes its future R&D roadmap.